At Longwood, learning is much broader than academics, and it can happen anywhere—not just in a classroom or a lab. We're continually creating activities and experiences that help our students develop into well-informed citizens who care about the future of their communities and beyond. (The photo above is of students who participated in last year's Big Event.)
A few opportunities that are coming up soon are mentioned below. Spread the word if you see something your student might be interested in!
The Big Event: A Morning of Service
Saturday, March 30, 9 a.m. to noon

Service is at the heart of citizen leadership at Longwood, and our annual Big Event service project makes it easy for students to show they are part of the Farmville community. Each year hundreds of students volunteer for a variety of projects, including yard work, painting and clearing debris. Students can sign up to participate here: The Big Event Sign Up.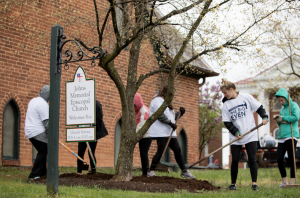 Eco-April Tree Planting
Saturday, March 30, 8 a.m. to 3 p.m.
Studies have shown that in one year a 10-year-old tree absorbs 48 pounds of carbon dioxide. In that same time, an acre of trees absorbs about the same amount of carbon dioxide produced by driving a car 26,000 miles. There are about 650 trees on the Longwood campus, and we're always working to add more. Each spring, students can learn about the value of trees and contribute to the environmental health of the Longwood and Farmville community by helping plant trees on campus. Students can sign up to participate here: Annual Tree Planting.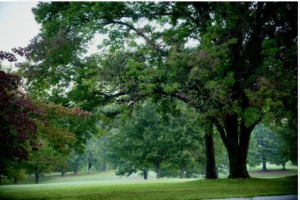 Sponsored by the Office for Sustainability
Designing A Career: One Artist's Story
Monday, April 1, 5 p.m.
Bedford Auditorium
If your student is interested in graphic design as a career, this talk should be inspiring. Antonio Alcalá, owner of Studio A in Alexandria and an art director for the U.S. Postal Service Stamp Division, is Longwood's Rosemary Sprague Visiting Designer. His clients include the National Gallery of Art, National Portrait Gallery and the Smithsonian American Art Museum. Alcalá also is an adjunct faculty member at the Maryland Institute College of Art.
Sponsored by the Graphic and Animation Design Program
Follow the Money: A Personal Finance Simulation
Tuesday, April 9, 9 a.m.-2:30 p.m.
Blackwell Ballroom

This personal finance simulation is designed to give students an accurate look at their current financial situation or their financial outlook after graduation. It's a way for students to explore the serious business of how to manage their own finances in a fun atmosphere.
Organized by the Center for Financial Responsibility in the College of Business and Economics in partnership with Virginia Credit Union 
Road Trip: The Virginia Holocaust Museum
Thursday, April 18, 8:30 a.m.-5:30 p.m.

The core exhibits at the Virginia Holocaust Museum in Richmond narrate the complex and sobering history of the Holocaust. Visitors are presented with a glimpse into the genocide of 6 million European Jews in the 1930s and '40s and, more broadly, into the dangers of intolerance.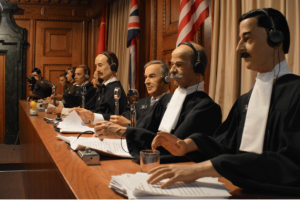 Three hundred artifacts and the testimonies of local Holocaust survivors expand on this history, representing the tangible and personal realities of this tragic event. Transportation (via bus) and admission to the museum are free. Faculty may give students an excused absence if it's for an educational activity. If your student has class this day and they're interested in participating, they should check with their professor(s).
Registration: http://tinyurl.com/CLSJEBusTrip2019.
Sponsored by the Office of Citizen Leadership and Social Justice Education in collaboration with the Jewish Culture Club