Earth Day was on Monday, but Longwood celebrated a little early with its annual BioBlitz, a full-on day of nature exploration held this year on Saturday, April 20.
That morning, about 60 Longwood students joined biology and environmental sciences faculty at Lancer Park, where Longwood's Environmental Education Center—BioBlitz headquarters—is located. Suited up in BioBlitz T-shirts and hip waders, with binoculars, nets and clipboards at the ready, the students had no complaints about getting up early.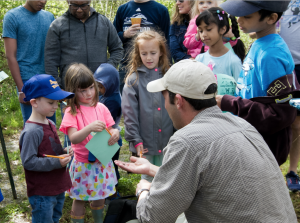 As it got closer to the 9 a.m. starting time, community members began to gather, excited to get going on a guided, down-and-dirty tour of local flora and fauna.
"If you aren't afraid to get your hands dirty—and even if you are—BioBlitz is always fun for the whole family," says Dr. Sujan Henkanaththegedara, a Longwood biology professor and one of the leaders of the event.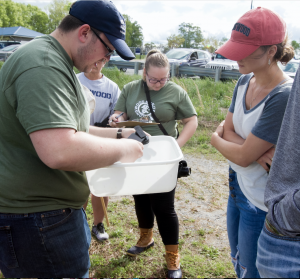 Before the day was over, the Longwood students and faculty had helped BioBlitz participants to identify and catalog about 240  plant and animal species. Turtles, crayfish, salamanders, insects, flowers and fungi are among "usual suspects" cataloged each year.
Back at the Environmental Education Center, "touch tables" gave the 100 adults and children in attendance the opportunity to get an up-close look at both live and preserved specimens of local wildlife. A scavenger hunt rounded out the day's agenda.
BioBlitz is one of the many ways that Longwood students give of their time to enrich the Farmville community—and that's what citizen leadership is all about.
Lancer parents have good reason to be proud.
—Sabrina Brown