Both the men's and women's basketball teams go into the Big South Tournament, set for later this week, as defending champions. You'll find several bits of information in today's post about how you and your Lancers can be part of the postseason excitement.
The tournament will be held in Bojangles Coliseum in Charlotte, North Carolina. The most up-to-date and detailed information can be found at Longwood's Tournament Central website.
Free Tournament Tickets for Students
The university is giving away tickets on site to the first 150 students who arrive for each game the Lancers play in the tournament.
Who Plays When and Where (Including Televised Games)
The women's team (#6 seed) plays its first game vs. Campbell at 8 p.m. Thursday, March 2. The first game for the men's team (#2 seed) is at 6 p.m. on Friday (vs. the winner of the Campbell-vs.-Presbyterian matchup on Wednesday). Both of these games will be streamed on ESPN+.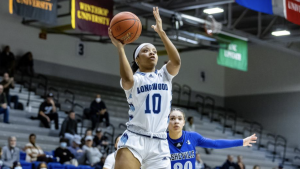 The semifinals also will be streamed on ESPN+. The men's championship game (1 p.m. Sunday, March 5) will be on ESPN2, and the women's championship game (6 p.m. Sunday, March 5) will be shown on ESPNU.
Tournament Tickets
But really there's nothing like experiencing a game in person. Tournament tickets are available online at Longwood's Tournament Central website ($20 plus fees on Ticketmaster) or at the door of the coliseum in Charlotte ($20). More information about the tournament and lodging in Charlotte can be found on the Big South Conference Tournament website.
Go Wood Lancer Gear
During the tournament or after, you can show your Lancer pride and support Longwood athletics with an official Go Wood 2023  T-shirt, sweatshirt or hoodie available on Amazon.
Next Year in Joan Perry Brock Center — Sign Up for Early Access to Season Tickets
Are you ready to join the loudest and proudest crowd that will have JPB shaking with energy? Are you ready to cheer on the Lancers? Let us know you're interested in purchasing season tickets once they're available by completing the 2023-24 season ticket interest form.
Completing the interest form will automatically qualify you for the exclusive purchasing window before sales are open to the general public.
It's an exciting time to be a Lancer!
—Sabrina Brown