Getting a college degree involves a significant investment. So why not take full advantage of the many activities and services on campus that are provided at no additional cost?
Below are just a few of the upcoming events, activities and services that are available at no additional cost for your Lancers. And a couple are free to parents, too!
LinkedIn Professional Photo Portrait 
Thursday, Feb. 16, 1-4:30 p.m., Hiner Hall lobby

Your student can get a free professional head-and-shoulders photo taken at this upcoming "photo booth" session sponsored by the College of Business
and Education. These portraits are perfect for use on LinkedIn—and it's never too early to establish a professional presence on this online networking site.
Open Mic Night 
Thursday, Feb. 16, 7 p.m., Upchurch University Center first floor lounge
Does your Lancer sing, write poetry, play an instrument? Lancer Productions, WMLU and SGA are bringing back Open Mic Night after last year's success! Anyone who's interested in performing can sign up here: Open Mic Night
Open to Parents and Families!
Richmond Symphony Concert

 



Friday, Feb. 24, 7:30 p.m., Jarman Auditorium
This free concert by the Richmond Symphony Orchestra is open to everyone, including parents and other family members. The program will feature Brahms' Symphony No. 3 and Lalo's Symphonie Espagnole with violin soloist Maria Duenas, a rising star in the world of classical music. No tickets are necessary.
Open to Parents!
FAFSA Webinar: Ask Questions, Get Answers
Saturday, Feb. 25, 10 a.m.
The FAFSA—Free Application for Federal Student Aid—for the 2023-24 year is live. The FAFSA is used to determine your student's eligibility for federal and state grants, direct loans, the federal work-study program and some need-based scholarships. Parents are invited to this help session at 10 a.m. on Saturday, Feb 25. Access the webinar here: go.longwood.edu/fafsa
You'll find a calendar of other activities/events provided for students—almost all at no additional charge—at http://www.longwood.edu/events/calendar/ .
Bicycles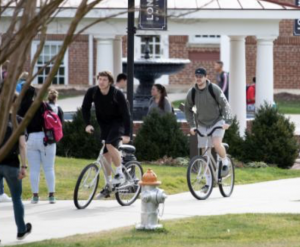 Longwood maintains a fleet of bicycles that can be checked out by students for 30 days at a time through the Health and Fitness Center. There's no additional charge as long as they're returned on time.
Fitness Classes
Campus Recreation offers a wide array of group fitness classes. From yoga to Spin Bootcamp to Dance-versity, there should be something to suit just about anyone's workout tastes. Students can take any—or all—classes at no additional charge.
Longwood Recovers Meetings
Longwood Recovers is an informal and voluntary support group for members of the Longwood community in or considering recovery. Longwood Recovery offers a private space for a weekly group meeting in addition to individual meeting slots with recovery support staff. Group meetings are held every Thursday from 3-4:15 p.m. in Upchurch University Center 305A, and all are welcome to attend (including Recovery Allies). Coffee is provided. Questions? Feel free to contact 434-394-0656.
WellTrack Boost App 
Free to all Longwood students, WellTrack Boost is an interactive self-help app that is designed to increase mental health awareness. The app also provides assessments, connections to campus resources, and strategies and tools for anxiety, stress and depression. Students can download the WellTrack Boost app and register with their Longwood email. Download WellTrack Boost
Caps, Gowns and Hoods Available to Borrow for May Commencement
The SGA has 20 caps, gowns and hoods available to borrow at no cost, especially for students who cannot purchase these items. There are a variety of sizes and hoods for the various colleges. They are available first-come, first-served from Martha Butler in the SGA office on the third floor of Upchurch University Center.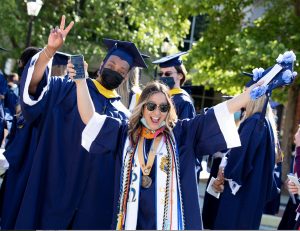 Pass Down the Gown: Recycle Graduation Regalia for Next Year's Graduating Class
Anyone who doesn't want to hang onto their graduation regalia can keep it from taking up space in their closet—and out of a landfill—by "passing it down" to be used by next year's graduating class. Students can donate their caps, gowns and hoods (any or all of those items will be accepted) at the Info Desk in Upchurch University Center. Someone will be there to take donations for about an hour after the end of the May 20 Commencement ceremony.
—Sabrina Brown