Pumpkin carving has come a long way in the last few decades, and nowhere was that more apparent than in the pumpkin-carving contest held Thursday.
There was hardly a triangle-shaped eye or nose to be found among the entries—but there were a lavender wig, handmade paper sunflowers and some incredibly intricate designs. Contestants ranged from first-time carvers to practiced artisans with years of jack-o'-lantern experience, and each of them had a story to tell.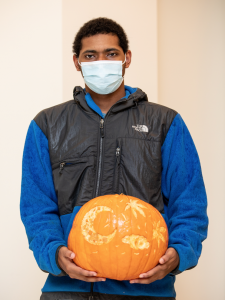 Inspired by his love of Japanese culture, Rayshad Lindsay '22 carved Japanese maple leaves onto his pumpkin. A physics major who took three years of Japanese in high school, he embellished his pumpkin with carvings of Japanese maple leaves, along with a crescent moon inlaid with diamond shapes—pretty ambitious for his first carving attempt.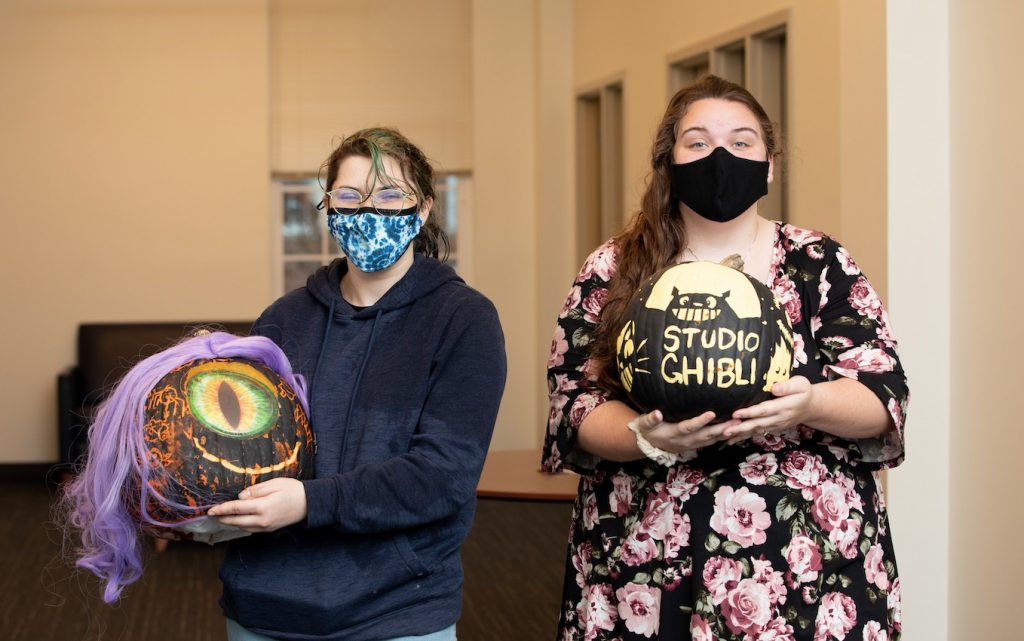 Continuing the Japanese theme, Jordan Matthews '22 drew inspiration from Studio Ghibli, a Disney-like Japanese animation film studio that Matthews describes as "very whimsical, fun and magical." An art education major, she covered her pumpkin with drawings of Ghibli characters.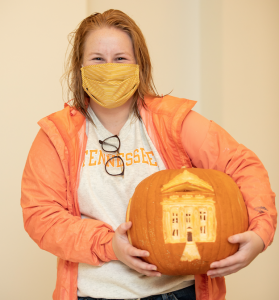 When Kira Pierce '22 dropped off her entry, it was immediately apparent that she took the contest very seriously—just as she does the annual Halloween pumpkin-carving competition between her and her dad, Longwood alum Gary Pierce '91. Kira, a math major, spent eight hours carving intricate replicas of the Rotunda façade and the Colonnades—two of her favorite campus spots—onto her entry. Her previous pumpkin work includes detailed portraits of Jesus and of the University of Tennessee's bluetick coonhound mascot Smokey. Why Smokey? Because Kira hopes to do her graduate work in engineering at UT.
Davice Jones '23, a biology major, proved that pumpkin-carving inspiration can come from the unlikeliest of places. A Student Government Association (SGA) senator, she met with Dining Director Mitch Rodhe Tuesday to give him feedback she'd gathered about the food at Longwood. "He made me laugh," she said, adding she decided then and there to create her pumpkin in his honor. Lit from within by twinkly lights, her "Mitch" pumpkin is gobbling a "cheeseburger" (represented by a smaller pumpkin) from FarmGrill, one of the restaurants in  the Upchurch University Center's food court.
Prizes were awarded for the best entry in several categories, including Longwood-themed (winner: Pierce), best painted (winner: Hannah Swain '22) and best classic jack-o'-lantern (winner: Jones).
Also Thursday, the pouring rain stopped and the sun came out just in time for students to trick or treat across campus during the afternoon. Costumes were encouraged for those making the rounds of more than 20 offices that had signed up to welcome students for Halloween.
I think it's nice that you don't have to be a kid to celebrate Halloween at Longwood—just a little bit of a kid at heart.
—Sabrina Brown