One of the great things about being a student at Longwood—and then being a Longwood graduate—is the strong connection our alums feel with these young people and the support they provide to them.
One example of this is the Work Shadow Program run by our Office of Alumni and Career Services.
The program gives current students the opportunity to spend a day with an alum working in a career field in which they have an interest. So far, more 55 alums, many of them from high-profile businesses and organizations, have volunteered to host a student for shadowing this year.
The deadline to sign up for this year's winter break program is the end of October. If you think your student might be interested, now is the time for them to apply here: http://www.longwood.edu/career/work-shadow-program/ . The program will be held virtually this year due to the pandemic.
"Alumni really enjoy connecting with students and making a difference in their professional futures," said Teresa Dodson, assistant director of employer engagement and internship services. "The goal is to give our students a taste of what the professional environment is like as well as to provide networking opportunities for our future alumni.
"We will do our best to find an alum in the student's area of interest," she added.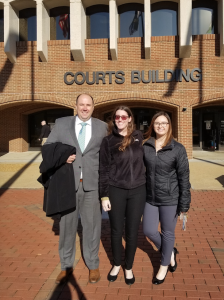 Below are some of the alums who have signed up to participate this year. Spending a day with professionals in these types of influential positions could be a life-changing experience for your student.
Editor and junior video editor
National Geographic Studios
Head of technology in corporate and commercial banking
Ernst & Young
Director of talent development
Virginia Tech
Associate compliance tester
Capital One
Senior human resources manager
Federal Reserve Bank in Richmond
International program manager
The Boeing Company
Open source intelligence specialist and analytic training coordinator
U.S. Department of Energy, Office of Intelligence and Counterintelligence
—Sabrina Brown