Safety is a top concern at Longwood, and the university is always looking for ways to improve and expand the measures we're taking to help keep everyone safe.
New Emergency Alerts Platform and Safety App
One of the latest advances is a new emergency alerts platform that was implemented this summer and is available to parents as well as students.
The new system is more versatile than its predecessor and has expanded capabilities for notifying the campus community of important safety information. Parents are welcome to sign up for these alerts, which will be sent through a variety of channels, including text, email and our alerts.longwood.edu webpage.
The new system will not import previous participants, so, if you were receiving alerts through the old system, you'll need to sign up again (see next paragraph) to continue receiving alerts.
To sign up for text alerts, just text LUALERTS to 226787. This will enter your mobile phone number into the system, and you will receive all text message alerts that are sent out. These are the same alerts that go out to students.
For all other notifications, you—and your student—can download the new Longwood Ready app. It's free and can be found in your app store by searching "Longwood Ready." The app has an array of helpful safety information and features, including
—A feature called Friend Walk that allows you to virtually "walk your student" to their destination
—One-touch emergency calling
—Mental health information and resources
—Push notifications
If you have trouble downloading the Longwood Ready app, please email questions@longwood.edu, and we'll do our best to help you solve the problem. (Be sure to turn on notifications once you've downloaded Longwood Ready.)
This Ladder Goes All the Way Up
Longwood has a long history of cooperation and support for the Farmville Fire Department. The strong community partnership between the two entities reaches back at least 45 years, when the university was instrumental in helping the department purchase a custom-built ladder-tower truck in 1978, primarily to protect the students living in Longwood's high-rise residence halls.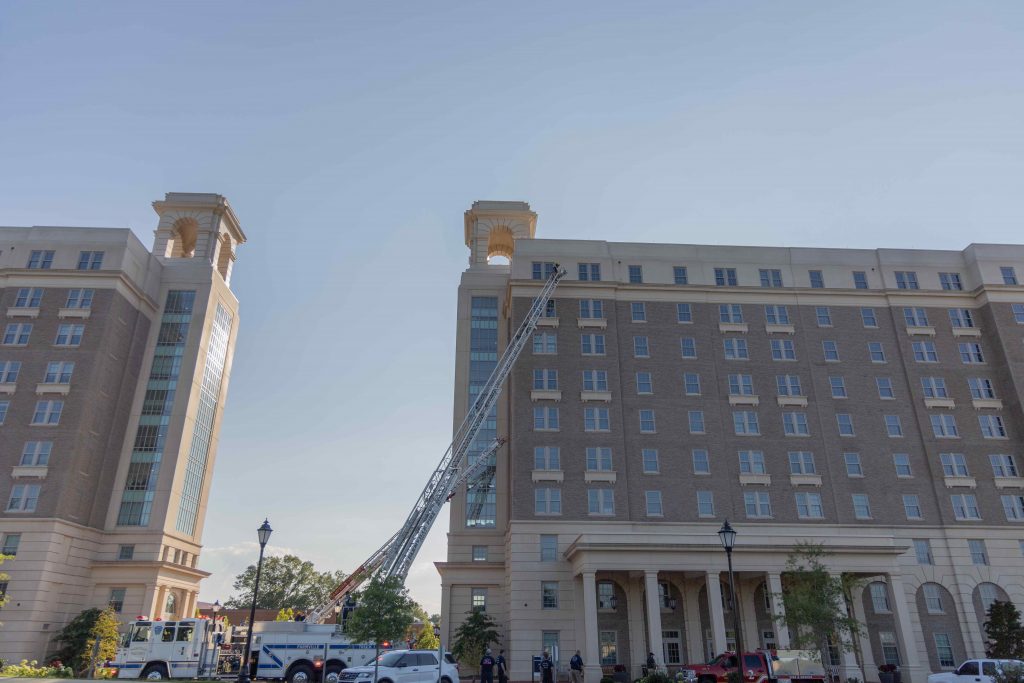 That original ladder truck was replaced in 2005, when the university donated $100,000 toward the purchase of a new truck with a 105-foot aerial ladder. Purchased specifically to reach the roofs of Moss and Johns halls, it was on campus recently for a firefighter training staged at those residence halls with crews from the fire departments in Farmville and nearby Hampden-Sydney.
Other Safety Features
You can find out more about Longwood's safety measures on the safety webpage and the page detailing campus security operations. Here are a few highlights:
—Residential and Commuter Life (RCL) organizes an Annual Campus Safety Walk (see photo at top) as part of a continuous safety improvement process for the university.
—All LUPD officers are police academy-trained and sworn.
—LUPD operates more than 450 security cameras that keep an eye on Longwood properties.
—More than 50 blue light emergency phones across campus and at Longwood-managed housing complexes are GPS tagged and provide a direct link to the local 911 center.
—The State Fire Marshal inspects approximately 20 percent of residence hall rooms each year to ensure that room occupants are living safely.
—Sabrina Brown