Longwood went to the dogs yesterday afternoon.
Literally.
Here a dachshund. There a pair of Westies. Several Labradors and retrievers. Some with pedigrees and some without. But all of them intent on giving students a break from the stress of final exams. A total of 37 dogs belonging to faculty and staff were registered to participate in the twice-yearly event, which is known as Study Paws and is organized by the student Therapeutic Recreation Organization (TRO).
Sophomores Kaitlyn and Molly were among the students who came out for a little canine-induced relaxation.
Molly said she needed a break from preparing for her first exam, which was at 8 a.m. today. Cash (a small poodle mix), Sunny (a Chihuahua mix) and Gizmo (a Pomeranian) gave up lots of hugs and sloppy kisses—just what the doctor ordered.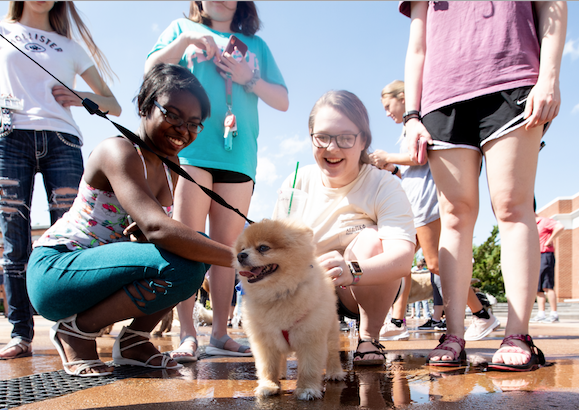 Kaitlyn, who was particularly fond of Gizmo, sent her father a text saying she wanted one of the small, fluffy dogs. He wrote back saying he wanted one, too.
Other students giggled and laughed as they took photos with their new furry friends.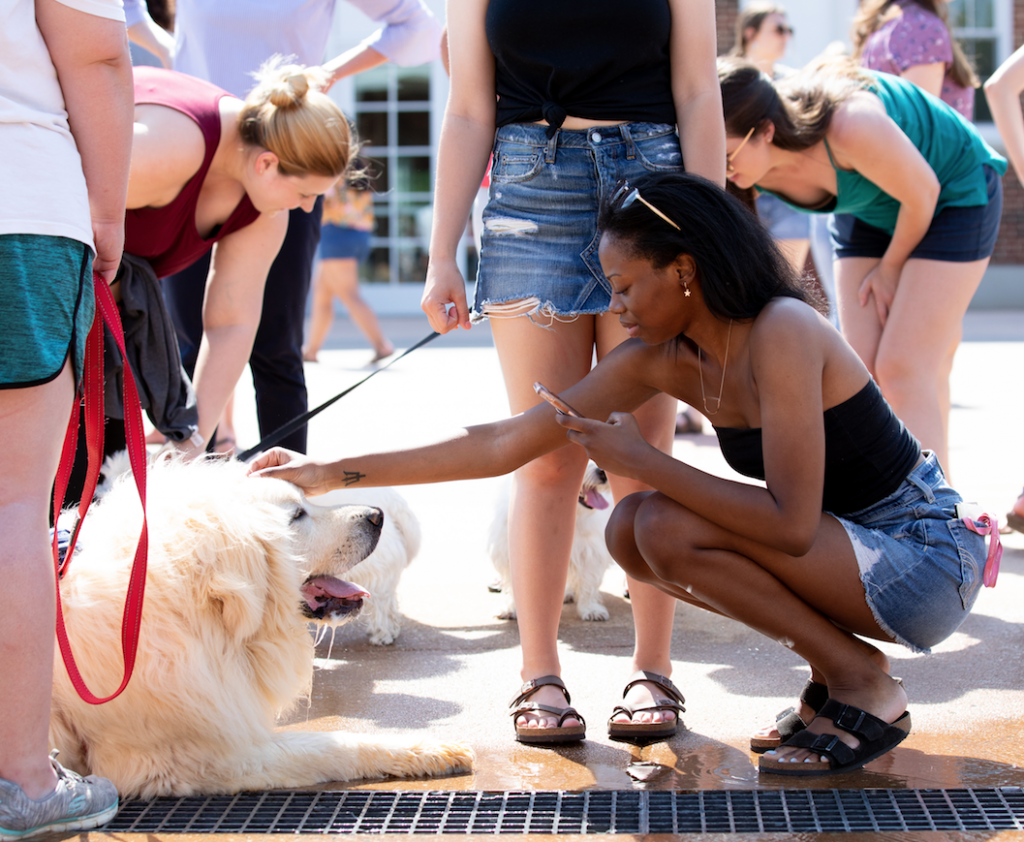 "Studying for finals is stressful, and this is a great opportunity for students to take a break and decompress while surrounded by puppy love," said Dr. Ann Bailey, assistant professor in the Therapeutic Recreation Program and faculty sponsor for TRO. "It's also another unique opportunity for faculty and staff members to have some fun and interact with students outside the classroom."
This event, like many others on campus, shows off the close-knit family atmosphere at Longwood. Some dogs and their owners are Study Paws regulars, including yellow lab Maggie and her human, Dr. Jake Milne '99, a sociology professor and organizer of the first event several years ago. Milne was there with his wife, Heather Milne '99, a staff member in communication studies.
Other staff members who participated included Lauren Whittington and JoDee Stringham from University Marketing and Communications, Paula Ellison from psychology, and Wendy McMillian and Suzanne Stetson from the registar's office. Among the other faculty members who participated were Dr. Sarai Blincoe, assistant dean for curriculum and assessment, and her husband, Dr. Adam Blincoe, an Honors College faculty member.
Temperatures yesterday approached 90 degrees, but neither the students nor the dogs seemed to mind—not even the Great Pyrenees or the Maremma-Abruzzese sheepdog, huge white dogs that easily weighed 150 pounds. That may have been due to the proximity of the Brock Commons fountain, which provided a great spot to cool off for humans and dogs.
—Lauren Whittington, senior writer in University Marketing and Communications, and Sabrina Brown contributed to this post