I know most of you are up to your eyebrows in packing and other preparations to move your student to campus next week.
Even under "normal" circumstances, moving a student in can be a challenge, especially for first-timers. So it's been heart-warming over the last week or so to see the flurry of activity on the Longwood Parents Facebook page, with veteran Lancer parents providing information and reassurances to anxious moms and dads posting questions about dropping off their freshmen.
I work in marketing and communications, where we talk a lot about the Longwood family. From my vantage point, that family clearly includes parents as well as students, faculty and staff. A big "thank you" to those of you who have made preparations for the start of this semester a little less stressful for your fellow Longwood parents.
Along that line, I thought I would also try to provide some helpful information about some updated policies and guidelines, move-in and campus life this semester. (Your student received an email yesterday with some of this information.) We're looking forward to having your Lancers back on campus!
Policies and Guidelines
As part of our return-to-campus protocol, we are implementing a policy regarding visitors in Longwood-managed housing that will be in effect at least until Labor Day. At that time, we will evaluate in light of public health conditions and guidance, and either extend these restrictions or potentially adjust them with other continued precautions. In the meantime, students who live in Longwood-managed housing should not have any guests who are not residents of their housing group (outlined below). This restriction applies to parents and other family members.
Housing Groupings
Lancer Park
Moss Hall
Johns Hall
Longwood Landings
Sharp, Register and Stubbs halls
Cox and Wheeler halls

We have asked that your student limit travel off campus this semester, including visits home. While this is an inconvenience, limiting the spread of the Covid-19 virus is paramount so that everyone can stay on campus. If your student must leave campus, they are responsible for following the same guidance they are adhering to while at Longwood—daily symptom checks, wearing a face covering in public areas, maintaining social distance, and washing their hands properly and often.
Please make sure your student has an adequate supply of face coverings, which will be required in public spaces inside all campus buildings, including residence halls, Longwood-managed housing and classrooms. Longwood will supply each student with two cloth face masks—residential students will get their masks from their RA or REC, and off-campus students will get theirs by coming to the Commuter Lounge in Upchurch 202—but students should bring extras so they always have one on hand.
Move-in
Your student should have received details about their designated move-in date and time via their Longwood email. That information can also be found here, based on your student's residence hall and room number. (Note that Johns and Moss halls were formerly named Frazer and Curry, respectively.)
Up to 3 helpers will be allowed to assist your student with bringing their belongings to their room or apartment. Volunteers won't be available to help due to Covid-19 safety precautions.
If you will need a dolly or cart to move items in, please bring one with you. We will not provide carts or dollies. You should also bring your own face coverings, gloves and any other personal protective equipment (PPE) you need to follow Covid-19 safety guidelines.
Campus Life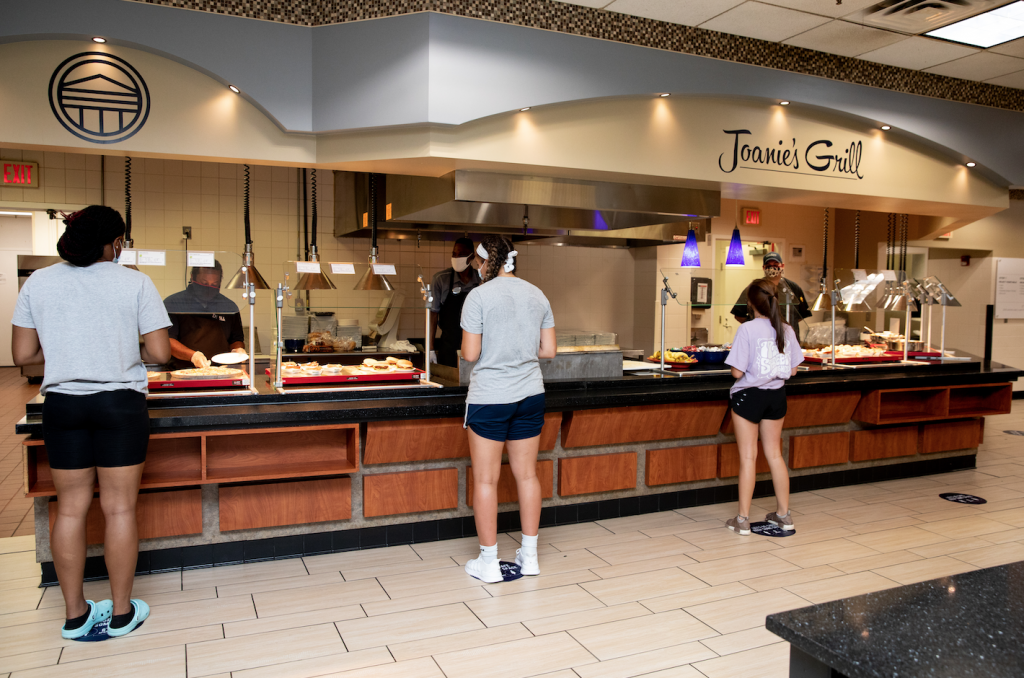 Longwood's Dorrill Dining Hall and other food outlets, including the campus Starbucks, will be operating this semester, with safety precautions in place.
At this time, appointments are required to see a health-care practitioner in person at the University Health Center, and students should call ahead if they need to drop off paperwork or to pay a bill. Telehealth visits also are available. The University Health Center's number is 434-395-2102. Please remember that parents cannot make appointments for their students. If your student needs an appointment, they need to make the call.
Longwood's Health and Fitness Center is open and the Campus Recreation staff have planned a variety of activities, all with Covid-19 precautions in place. Students are required to wear a face covering when entering and exiting the Health and Fitness Center. In-person fitness classes that will be offered this fall include spin and barbells. Classes to be offered in an online format include yoga, boxing and Pilates. Intramural activities will include a disc golf league and tournament; a modified sand volleyball league (no net play and only 3 members per team); and a pickleball league.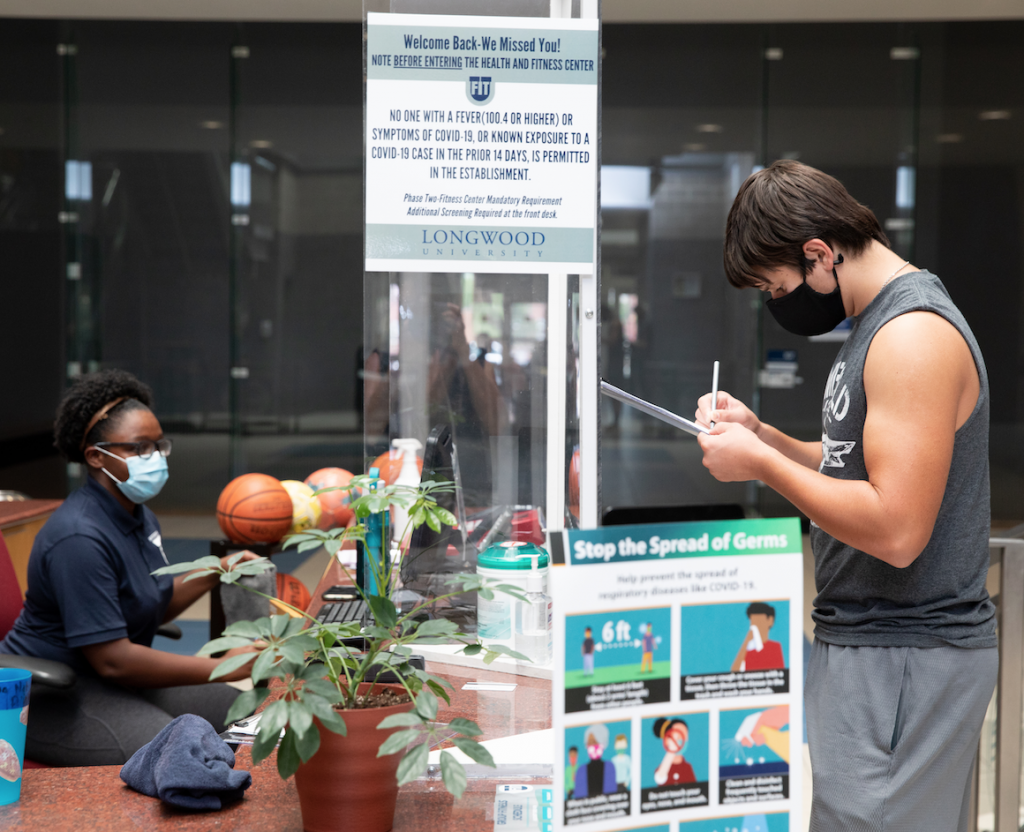 Washers and dryers in all laundry facilities in Longwood-managed housing can be operated with Lancer CA$H (accessible through your student's Lancer Card) or with quarters. You can find information about how to add Lancer CA$H funds to the Lancer Card here. Note that a package of laundry "swipes" to operate washers and dryers is already included in the housing fees for students living in Lancer Park and Longwood Landings.
—Sabrina Brown