I hope your student had a great spring semester. It's hard to believe Commencement is this weekend. Congratulations to those of you whose seniors are graduating!
This summer promises to be exciting as we anticipate work beginning on Longwood's new Joan Perry Brock Center.
If your student will be a freshman or a sophomore next year, they will have the opportunity to experience this amazing new facility in person when it opens in summer 2023.
Located in the heart of campus next to Willett Hall, the 3,000-seat center will be the home to Longwood's men's and women's basketball teams as well as the venue for Convocation, concerts and a host of other community events. This much-needed building will fit in seamlessly into campus and become an integral part of the downtown Farmville community.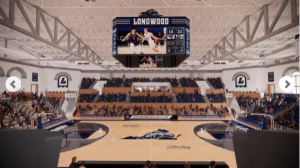 Check out the introductory website to get a taste of what the center will look like inside and out, and share in the excitement of what the Brock Center will mean for your Lancer and Longwood's entire student body.
—Sabrina Brown