The next few weeks are full of fall events where your Lancers will be showing off what they have learned and also having some silly—and even scary—fun (boo!). All work and no play is definitely not a recipe for success, so, along with encouraging them to work hard, put in a word for taking an occasional study break.
Fall 2021 Student Showcase for Research and Creative Inquiry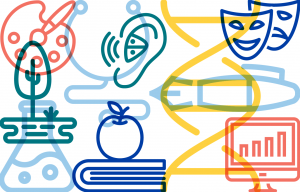 Students present their academic work, from biology research to graphic design projects, in this twice-yearly event. Ask your student if they're planning to participate. (The registration deadline is this Friday, Oct. 22, at 5 p.m.)
The showcase is set for Wednesday, Nov. 17, from 2-5:30 p.m. Parents can see their students in action via Zoom for oral presentations and performances.   Poster presentations and visual art displays will be virtual and will be posted on the ForagerOne Symposium platform.
You can find more information here.
Student Ensemble Concerts
If you weren't able to come to campus for Family Weekend, you missed a great showcase of our students' musical talents. There was a sizable crowd in Jarman Auditorium, and the students got a boost from performing for a live audience again after last year.
There is something to be said for live-streamed concerts, however: Parents can watch them from home.
If your student is in the Camerata Singers, the Chamber Singers, the Wind Symphony and/or the String Ensemble, mark these dates and times on your calendar. All three concerts will be live in Jarman Auditorium and live-streamed  at "Elwood's Recital" on YouTube.
Camerata and Chamber Singers
Thursday, Oct. 21, 7:30 p.m.
The students in these ensembles not only sing, but also share their own reflections in words and in images throughout the concert.

Wind Symphony
Tuesday, Oct. 26, 7:30 p.m.
Featuring clarinet professor Dr. Roland Karnatz in the 1940s swing-style piece "Artie Shaw Clarinet Concerto" and a Veterans Day tribute that will include service songs of the U.S. military followed by Sousa's "The Stars and Stripes Forever."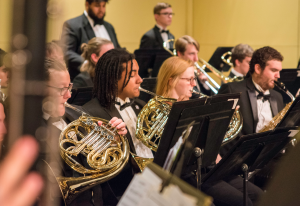 String Ensemble
Saturday, Nov. 6, 7:30 p.m.
Featuring works by Gustav Holst, Sergei Rachmaninoff, Jay Ungar, Ledah Finck and Gordon Ring.
Now For the Fun
If your student is telling you there's nothing to do, see if they know about these  entertaining events.
Magic Show: Matt the Knife
Friday, Oct. 22, 2021, 8 p.m.
Organized by Lancer Productions
Described as an "intense mentalist, magician and speaker who's wickedly humorous, occasionally dangerous and unapologetically irreverent."
Haunted House with Campus Recreation
Friday, Oct. 29, 8-11 p.m.
Screaming encouraged 🙂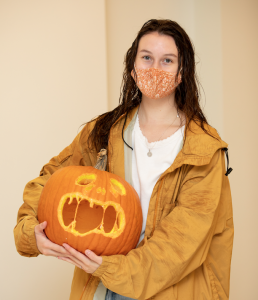 Pumpkin Carving and Costume Contest
Monday, Nov. 1, throughout the day
Organized by Alumni and Career Services
Students can submit photos of their pumpkins and costumes, which will be posted online for community voting to determine prize winners. Tell your student to let you know if they enter so you can vote for them! Winners will be announced on Saturday, Nov. 6.
Step Afrika!
Friday, Nov. 5, 2021, 8 p.m.
Organized by Lancer Productions
A dance troupe that performs and teaches the history of stepping.
—Sabrina Brown