It's hard to believe the 2021-22 academic year is almost in the books. We sincerely hope your student had a great year. And we hope the information below will make the moving-out process a little easier for those of you whose students live in Longwood-managed housing.
Residence halls close at noon on Saturday, May 7.
Except for the groups mentioned below, all students must depart their residences within 24 hours of the conclusion of their last spring 2022 exams or by noon on Saturday, May 7, whichever comes first.
The following students may remain on campus after noon on May 7*:
Graduating seniors**
Graduating master's degree students who live in the residence halls**
Students approved to assist with commencement**
Apartment residents participating in 12-month housing
Students working with select faculty- or staff-sponsored department activities (for example, some athletes and students working with Brock Experiences)
*Students who believe they should receive special approval to remain in Longwood-managed housing after noon May 7 should contact their coach or the appropriate faculty member for approval information.
**Students participating in commencement must depart campus no later than 4 p.m. Saturday, May 21.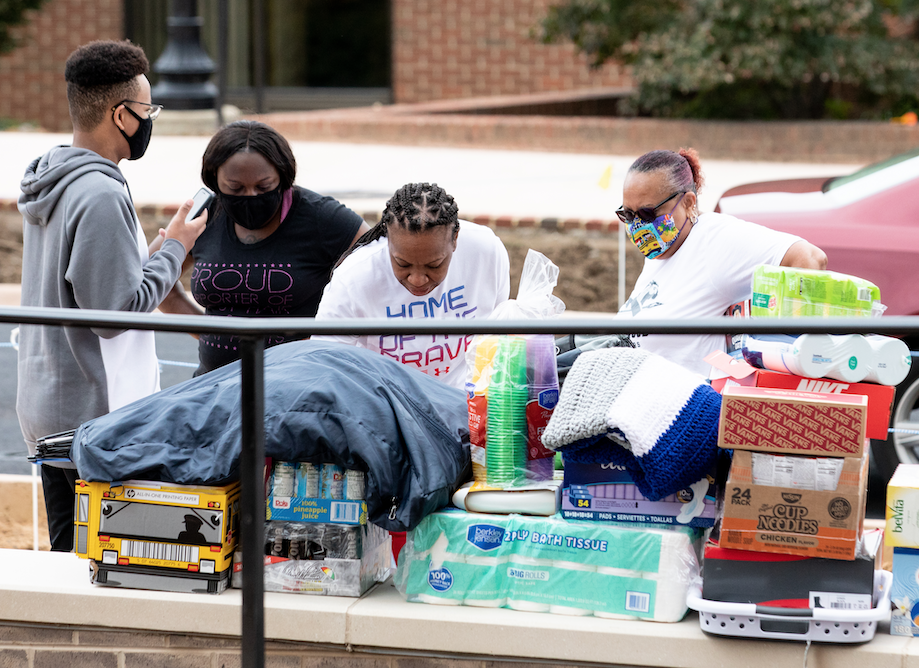 HELPFUL HINTS
Do not drive or park on the grass.
Do NOT park the nearby lots for private businesses. These lots are TOW-AWAY ZONES at all times, including weekends.
Farmville Area Bus (FAB) service ends at 5 p.m. Friday, May 6.
Residents are encouraged to consider donating items—especially those they might otherwise throw away—to the local Habitat for Humanity ReStore, FACES Food Pantry, Southside SPCA or the Clothes Closet. Collection boxes are available in residence hall main lobbies, Lancer Park Brown Commons, Landings laundry room and the Greenwood Library.
CHECKOUT PROCESS
Remove all belongings. You must remove all personal items from your assigned space or any other areas of your unit before departing campus.
Abandoned property. Personal items still in a unit after a resident has checked out OR left in an unauthorized area of a unit will be considered abandoned and are subject to disposal and financial charges. Be sure to double-check your unit and remove all personal items prior to departing campus.
Using check-out envelopes and drop box (available for all residence halls and apartment communities).

Envelopes are available at each service desk.
Fill out the envelope.
Place key(s) inside envelope.
Place the envelope in the drop box. For residence halls, the drop box is in the vicinity of the front desk. For Lancer Park, there is an exterior mounted box close to the Brown Commons front service desk. In the Landings, each ground floor elevator lobby area has a  wall-mounted box.
DEPARTURE EXPECTATIONS
Prior to leaving campus, all residents must complete the tasks below. Units will be inspected to ensure compliance. Failure to comply may result in judicial sanctions and/or financial charges.
Departure Checklist
—Remove all trash, contraband and perishable food.
—Thoroughly clean your unit, including the bathroom and common spaces.
—Take valuables and important items (medication, eyeglasses, wallet, etc.).
—Shut down and unplug all electronics, except refrigerators that are university property and/or remain in the unit.
—Turn off all lights.
—Close and lock all windows.
—Lower all window blinds/shades.
—Lock all doors.
INFORMATION FOR RESIDENTS OF MOSS AND JOHNS HALLS
Loading zone access on the South Main Street side of the halls will be closed from Wednesday, May 4, through Saturday, May 7.
Spruce Street and Redford Street will be open for exit only onto South Main Street from Wednesday, May 4, through Friday, May 6. On Saturday, these streets will not be open for exit onto South Main.
U-turns will be permitted on Spruce Street after 5 p.m. only from Wednesday, May 4, through Friday, May 6. U-turns will be permitted all day on Saturday, May 7.