What do Albert Einstein, Marie Curie, Frida Kahlo, Leonardo da Vinci and Frederick Douglass all have in common? Each of these famous figures kept a journal or diary to record their experiences, thoughts or feelings.
What do Longwood's Greenwood Library and CAPS (Counseling and Psychological Services) have in common? They both care about your student's well-being.
Now, you may be wondering, what's the connection between journaling, the library and CAPS?
The library and CAPS have teamed up to offer a series of workshops for students aimed at enhancing their well-being and funded by a $19,000 grant from the Institute of Museum and Library Services.
Next up is:
Writing for Well-Being: Journaling Workshop
1-2 p.m., Wednesday, September 7, Greenwood Library Children's Literature Room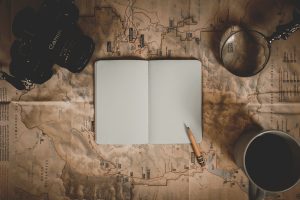 At tomorrow's workshop, students will receive a free journal and learn about the benefits of journaling, which include reducing stress and anxiety. Here's more from Kaiser Permanente about the benefits of journaling: https://healthy.kaiserpermanente.org/health-wellness/healtharticle.7-benefits-of-keeping-a-journal
Additional workshops scheduled for this semester:
Finding Meaning in Suffering: Authors' Presentation
7 p.m. Friday, Sept. 30, Room 105 Radcliff Hall
Dr. Daryl Van Tongeren, a psychologist, and Sara Showalter Van Tongeren, a licensed clinical social worker, will discuss their book The Courage to Suffer: A New Clinical Framework for Life's Greatest Crises. Their talk will touch on resilience, finding meaning in the struggle and mental health. The first 50 attendees to arrive will receive a free copy of the book.
Connections Through Crocheting
6 p.m. Tuesday, Oct. 18, Room 147 Greenwood Library


Hobbies are great ways to support mental health, and many people find crocheting a relaxing activity. In this class, participants will get started on a project with a simple pattern. All supplies will be provided. Registration is required and should be open online next month. If your student is interested, they can check the library website for the link to the registration form starting in early October. (Encourage your student to sign up even if there's a waiting list—there will be another class soon!)
If you think your student would benefit from any or all of these programs, please encourage them to attend! And they're also open to the community, so you are welcome as well!
—Sabrina Brown
 These programs are part of the project Well-Being in the Heart of Campus: Community Connections at Greenwood Library, a partnership between Greenwood Library and Longwood CAPS. This project was made possible in part by the Institute of Museum and Library Services, ARPML-250933-OMLS-22.