The sky was a brilliant blue, the mercury had barely reached 20 degrees and the wind was wickedly whipping across campus when I came to work this morning. I had bundled up in a sweater, boots, a mid-calf wool coat, a scarf and gloves to brave the short walk from the parking lot to my office in Lancaster Hall. It didn't feel like enough.
Thinking you might be wondering how your student is faring in the cold today, I ventured back out around 10:30 during class change to take a look. Here's what I saw:
—Some boots and knit hats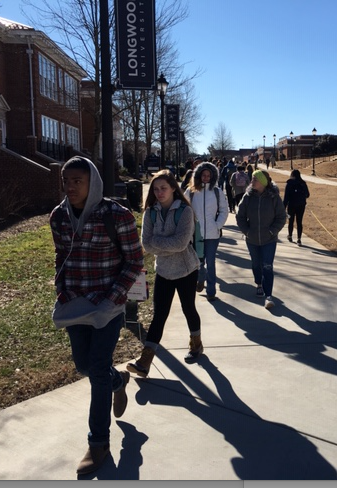 —A few big, puffy coats
—Mostly bare hands (maybe because you can't text wearing gloves?)
—A lot of bare ankles (among young women) and bare heads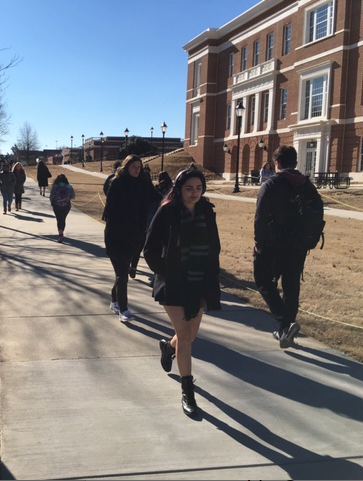 —A lot of lightweight jackets, many unzipped
—A lot of hoodies (often with hoods down) and sweatshirts as the only outerwear
No judgment.
My college-age daughter often wears shorts with her UGGs in the winter. And I remember when I was in college (in Memphis, Tennessee, where it gets quite cold) that dressing warmly was not cool, no matter the temperature. Ah, youth. Some things never change.
The forecasters are predicting a warming trend with a high of 72 on Tuesday (no, that's not a typo), but just in case your student comes down with a case of "There's nothing to do" over the next few days, here are some antidotes you can offer.
 Comedian: Kevin Yee
Friday, February 1, 8 p.m. in the Upchurch University Center Soza Ballroom
Come on out and join Lancer Productions in welcoming Comedian Kevin Yee and his original comedy songs, which have been featured on the hit podcast 2 DOPE QUEENS (WNYC) and on The Gong Show(ABC)!
Peer Mentor Interest Meeting
Saturday, February 2, 2-3 p.m. in the Upchurch University Center Wilson Chamber (300)
The Office of Student Success is beginning its search for students who want to assist new Lancers in their transition to college. Peer mentors are role models and leaders on Longwood's campus. Come to the meeting to learn more about who peer mentors are, how they engage incoming students, and the application and interview process.

Super Bowl Watch Party
Sunday, February 3, 6 p.m. in the Upchurch University Center (First Floor Lounge)
Want an awesome place to hang out with friends and watch the Super Bowl? We will be having a viewing party Bdubs style in the first floor lounge in Upchurch. We will have free food. Just come on in and claim a table!
Women's Empowerment at Women's Basketball Game
Tuesday, February 5, 7 p.m. in Willett Hall (gym)
Join Longwood University Athletics and the Lancer women's basketball team for a special women's empowerment event to celebrate National Girls and Women in Sports Day. Cheer on the Lancers in their game against High Point and recognize the accomplishments of some of Longwood University's and Central Virginia's outstanding women. Admission to the game is free for all women.
—Sabrina Brown