You see it on our street banners. You hear our students talking about it. It's a part of Longwood from one end to the other. What is it?
Citizen leadership—which is the idea that everyone can be a leader in whatever circumstances they find themselves. In other words, you don't have to be a CEO or a senator or a school principal to have a positive impact in your corner of the world. We instill this belief in your Lancers in numerous ways, but I want to share one example with you today that has a little bit of a twist.
It's an English class titled 9/11: Loss and Redemption, where—along with writing assignments—students this semester planted, tended and then harvested a "victory garden." You may have heard of these gardens, which helped supplement the nation's food supply during World Wars I and II, but the purpose of the garden at Longwood is philosophical as well as practical.
Dr. Michael Lund, a professor emeritus of English who teaches the class, and his students have taken three loads of vegetables to Farmville's FACES food pantry this semester. But even more important, working in the garden serves as a way to help the students connect to a time when Americans were more personally invested in the military, and attitudes toward service and citizenship were different, Lund said.
The class is part of Longwood's new core curriculum, Civitae (pronounced siv-i-tay), which has a strong focus on creating citizen leaders. (Click on this link for more about Civitae and an explanation of the name and its Latin roots).
"I certainly connect [the class] to the idea of citizen leadership," said Lund. "I thought I could put in place something that is a gesture to the veteran community and also educates my students about civilian involvement during the world wars," he said. "I think they should know something about the cost of what the military does."
Timothy Eppes '22 said he had taken photos of the garden to help detail the changes in growth along the way. "Looking back to the first photo, it was empty. And now it's full," he said. "We're giving food to people who need it. This is a way to help give back."
Ashley Rebehn '22, who has volunteered with FACES through another class, agreed that it's nice to know that's where the food they are harvesting is headed.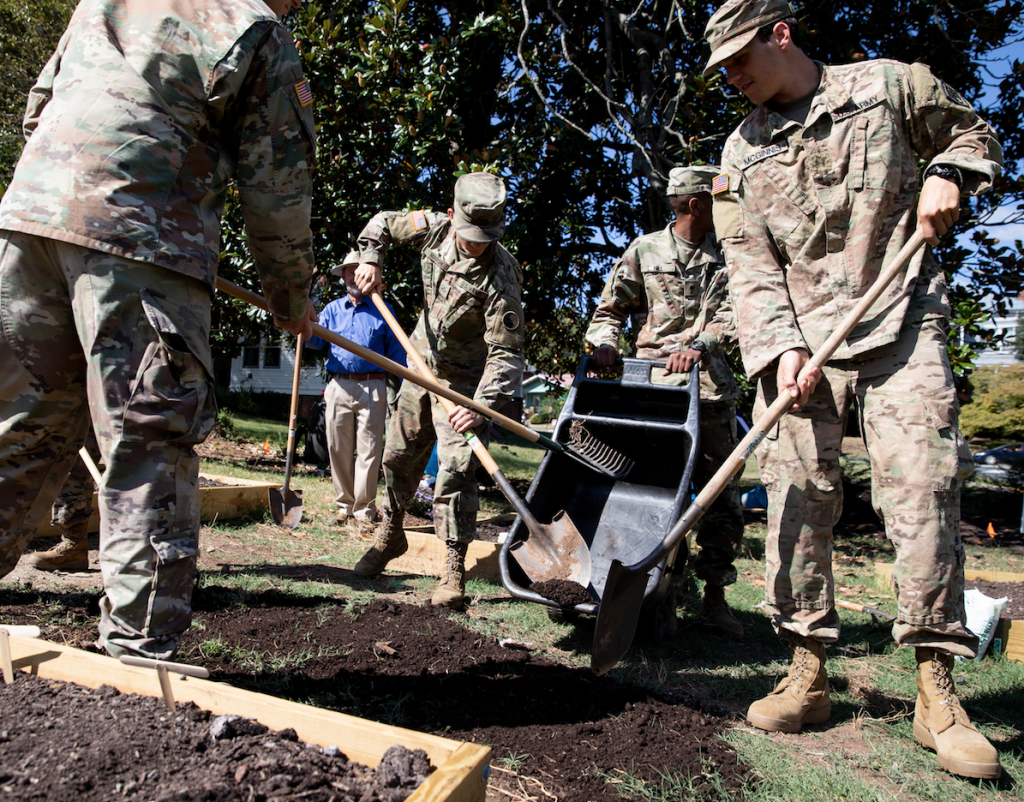 Although the students in Lund's class were most directly involved with planting and harvesting the garden, the project was a community effort. Members of Longwood's ROTC program helped to move dirt into six raised garden beds. Lund worked with facilities management staff to have the beds made, and the soil was amended with compost from the university's biomass facility.
Aside from the three types of lettuces and leafy greens, the victory garden produced other cole crops, including turnips, beets, broccoli and daikon radishes.
Lund plans to continue the garden in the spring with another section of English 215.
—Sabrina Brown with Lauren Whittington