Longwood faculty are constantly looking for ways to enrich your students' education, and the weeklong workout a New York City choreographer gave the cast of an upcoming campus production of Chicago is a perfect example.
Marisa Kirby, who also is a professional actor and director, spent an entire week working with the 15 students who will sing, act and dance their hearts out in Chicago later this month. Kirby has worked on many well-known shows, including Guys and Dolls, 42nd Street, Cabaret and—most importantly—Chicago, in which she played Velma.
What brought Kirby to Longwood? Her BFF, Longwood theatre faculty member Lacy Klinger.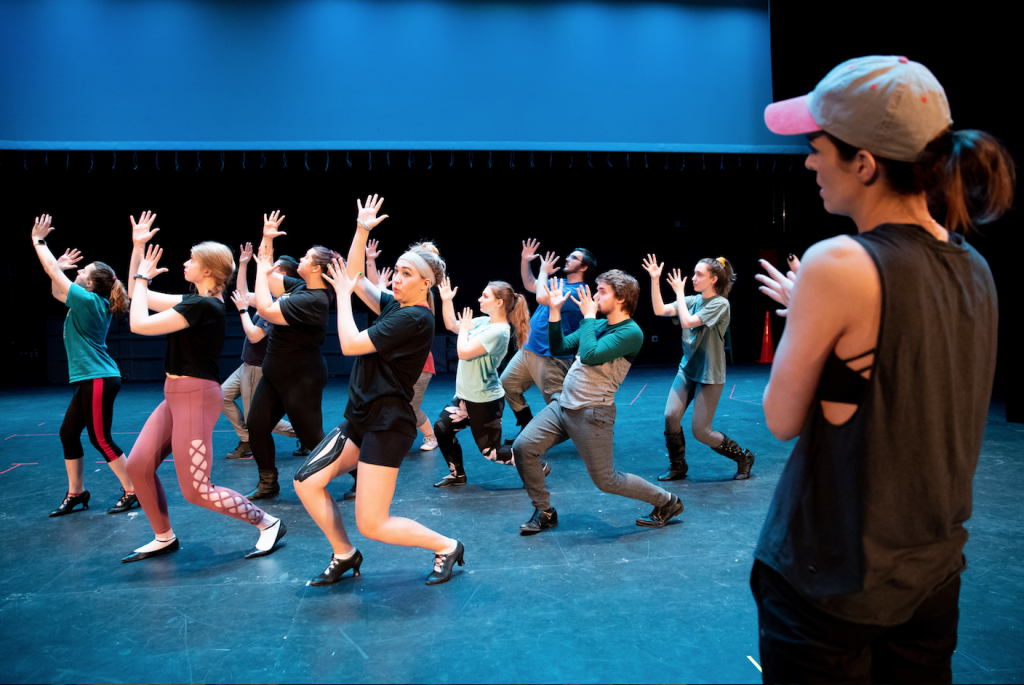 "Marisa and I were dance teachers and choreographers during high school at the same dance studio in our hometown, and we've been best friends ever since," said Klinger, an assistant professor of acting and voice, and movement.
"I reached out to Marisa when the theatre faculty decided to produce Chicago. She has experience creating movement inspired by Bob Fosse, the original choreographer of Chicago, so I knew her expertise would translate perfectly into the concept of our production."
Kirby was on campus from Jan. 27-Feb. 4, preparing students for the performances set for Feb. 20-23 in Longwood's Jarman Auditorium. Among the 15 students in the cast are seven theatre majors, four music majors and one each in communication studies, history, biology and special education.
"Marisa is able to reach a multitude of students through humor and enthusiasm, and push them beyond what they believed was possible," said Klinger. "She makes everyone she works with better."
That was certainly the case for Erica Johnson '21, a theatre major who is playing Velma.
"Something interesting for me is I haven't really had a heavy dance background, but I'm getting exposed to this heavy dance show by a professional," said Johnson. "It's really a good experience for me because I'm kind of being thrown in, but at the same time, I'm learning so much."
In addition to the actors in the show, students are working behind the scenes as assistant choreographer, hair and makeup designer, assistant lighting designer and sound designer.
Klinger said the students on the production side are creating a unique version of the musical for the Longwood run, and that some of the work they've done has given her chills. "The concepts for the visual presentation of the cast are so daring, so exciting and so unlike any other production of Chicago I've seen that I got chills," she said.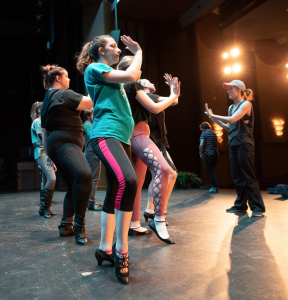 All the more reason for students to follow Klinger's advice.
"I always tell students, no matter what the production, 'This is your show. This show will never exist again in the way it exists right now. Once it closes, that is the end of this specific, magical experience … so enjoy all of the people and things involved while you can."
Chicago is the longest-running American musical in Broadway history. Set in Jazz Age Chicago, it's based on a 1926 play about actual criminals and features the work of John Kander, Fred Ebb and Bob Fosse.
Longwood's performances are at 7 p.m. Feb. 20-22, with matinees at 2 p.m. on Feb. 22 and 23. If you're up for a trip to campus, tickets are available through the Longwood Theatre Box Office.
—Sabrina Brown