With a dusting of snow in the forecast today, it seems a little odd to be writing about spring break and other spring activities—even if they are right around the corner.
Spring Job and Internship Fair
Spring break is the first week of March, but before your student gets into that spring break state of mind they have the opportunity to check out job and internship opportunities at the Spring Job and Internship Fair on Tuesday, Feb. 25.

So far, representatives from 44 businesses, nonprofits, school districts, graduate schools and state and local government agencies have signed up to attend.
The event will be held from 1-4 p.m. in Blackwell Ballroom. Students should dress professionally  and bring copies of their resume.
Planning for Spring Break
Any student who lives in university-managed housing and needs access to their residence after 6 p.m. on Friday, Feb. 28, must "register to stay" before midnight next Thursday, Feb. 27. Even If there's only a chance they'll be staying on campus over the break, the housing office recommends that students go ahead and fill out the form. Being locked out of your residence hall or your apartment is no fun.
The form can be found via the Student Housing Gateway, which can be accessed from the Housing and Residence Life page here—https://longwood.edu/housing/—but your student will need to fill it out.
Here are some other pieces of spring break information you and your student should keep in mind:
From a student housing point of view, spring break is from 6 p.m. Friday, Feb. 28, until noon Sunday, March 8.
University administrative offices will be closed Monday, March 2, and Tuesday, March 3.
The Farmville Area Bus (FAB) will stop running at 5 p.m. on Friday, Feb. 28, and will resume at 1 p.m. Sunday, March 8. This means there is no bus service for travel to Lancer Park or Longwood Village during the break.
Residence hall rooms and apartments are subject to entry during the break for maintenance, general work and safety inspections.
Dorrill Dining Hall and other food venues will have limited hours during the break period. Information about food venue hours can be found here: https://longwood.campusdish.com
Classes resume March 9.
Spring Is For Softball—And Winning
An afternoon at the ballpark is a favorite spring activity—especially when the Lancer softball team is playing.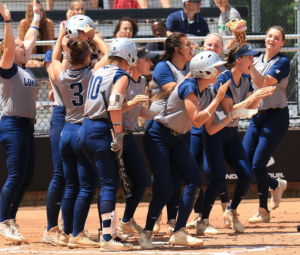 Longwood softball has dominated the Big South since joining the league in 2012-13, winning the conference championship a record-setting five times during that period.
The team was again the preseason favorite to take home the conference crown in 2020. Longwood was a runaway favorite in the voting conducted by the league's nine head coaches, hauling in eight first-place votes en route to their fifth consecutive selection as the Big South preseason No. 1.
The 2020 schedule includes several upcoming weekend home games: March 28, April 4, April 5 and April 11. It might be fun to take in a game with your student if you're planning a trip to campus later this semester.
 —Sabrina Brown