It's January, and that means New Year's resolutions, the start of spring semester—and thinking about your student's housing for next year.
Today's post will be aimed primarily at parents of students who will be juniors and seniors next year. We know there are many housing options available to your student. And we know you are weighing many factors as you make this important decision.
You want your student to be safe. You want them to have somewhere to turn for help if they need it—especially if it's in the middle of the night and you're not close enough to get there quickly.
One of the biggest advantages Longwood-managed apartments offer is peace of mind. Below are a few more of the advantages of living at Lancer Park and Longwood Landings (pictured above):
—If your student tells us by Jan. 24 that they will be registering to live in a Longwood-managed apartment, they'll automatically be entered to win $4,000 toward their apartment for next year. Registration for apartments begins Feb. 8.
—Staff are on call 24/7 to respond to your student's needs.
—Longwood Police Department officers keep a close eye on Longwood-managed apartments with regular patrols 24/7.
—Emergency phones and security cameras are placed at strategic locations at both complexes.
—An LUPD officer lives with his family on site at Lancer Park.
—All of your student's neighbors will be Longwood students or staff.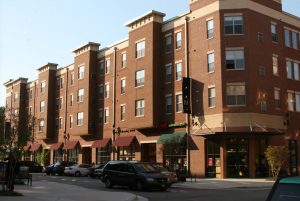 —Residents can store their belongings FREE in their apartments over the summer (if they will be living in the same apartment the following fall). No more moving belongings in and out.
—Residents can live in their apartments over breaks and the summer at no additional charge (if they will be living in the same apartment after the break or for the next regular semester).
—Longwood has restructured its meal plans. A new 50-meal plan offers flexibility and savings.
—Use of washers and dryers is FREE.
—Cable, internet, water and electricity are included in housing rates. No more surprise utility bills or hassles with splitting bills and security deposits.
—Main-campus parking for apartment residents has been expanded to include 24/7 access to commuter spaces for Lancer Park residents and residential spaces for Longwood Landings residents.
A list of apartment and meal plan options, along with pricing for the 2021-22 year, can be found at go.longwood.edu/housingrates.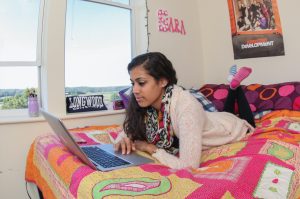 Longwood-managed apartments also are an option for sophomores, although we encourage the on-campus residential experience for students' first two years.
—Sabrina Brown
P.S. Just a reminder for your student to tell us by Sunday, Jan. 24, that they plan to register for a Longwood apartment so they will be entered to win a credit of $4,000 toward the apartment! You can find the details here: go.longwood.edu/myhousingplans