Hello, Parents!
First of all, I want to welcome all of you who are new to Parent Pipeline, especially those of you who joined after attending orientation.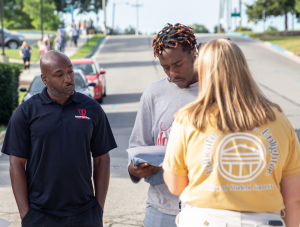 I can tell from the posts on the Facebook page for Longwood parents that many of you who will be moving a student to campus for the first time this fall are getting a head start on sorting out the logistics of that task. I am honestly impressed with the level of detail in the questions you're asking, and it's great to see parents who have "been there, done that" sharing their experiences and advice. The Lancer Family in action is a beautiful thing.
I hope you'll also be able to find some helpful information in Parent Pipeline this year.
HELPFUL INFO FROM THE PIPELINE ARCHIVES
I'll get started with a link to a post I wrote this past spring that answered some common questions from parents (all dates mentioned are 2021). And here's another post that provides some information about services and activities that are available to students at no extra charge. If your student is new to Longwood, you might want to share this information with them.
SHIPPING A PACKAGE TO YOUR STUDENT
If you'd like to ship a package to your student's PO box, you can do that through the U.S. Postal Service.
If you'd like to ship via UPS or FedEx (neither of which will ship to a PO box), you can use this address:
Student Name
Longwood University
201 High Street
6-digit number of your student's PO box (include ONLY the numbers; don't include the words PO Box)
Farmville, VA 23909
SAVE THE DATE! FAMILY WEEKEND SEPT. 17-19
Finally, I'm hoping you'll save the date for Family Weekend, which is coming up Sept. 17-19. You'll get to see how your Lancer is adapting to college life as well as explore campus and Farmville. And with so many other parents on campus, your student will feel like part of the crowd having you here.
If you're wondering about where to stay, there are a lot of options in Farmville and in the surrounding area. Here's a list with descriptions and contact information.
You can find more information about Family Weekend on the registration page and on the Family Weekend webpage. You can also download the Guidebook app, which will have a more robust schedule as plans are finalized and will be updated if changes are made.
Here are some of the highlights:
—Everyone who attends Family Weekend needs to register. Base tickets are $10 for family members age 5 and older. Base tickets for Longwood students and children under 5 are free, but they still need to register.
—This year's Family Weekend coincides with the Heart of Virginia Festival on Saturday, Sept. 18, an all-day, downtown street fair with food, games, vendors, live music and more.
—Activities and events included in the base ticket include an outdoor concert at Riverside Park in downtown Farmville, family game night and a yoga class.
—A painting class ($35) and The Great Dubois variety show ($5) are also on the schedule for an additional fee. Longwood students are admitted free to the variety show with their Lancer IDs but they'll need a ticket for the painting class. The painting class isn't suitable for very young children; those 5 and older require a ticket.
—Sabrina Brown