Cheer on our Lancers at the Big South Conference Basketball Tournament this week as both the men's and women's teams compete for a chance to play in their first-ever NCAA Tournaments.
Also, please go to the bottom of this post to read about some additional students we can be proud of. The String Ensemble will present a concert this evening (Thursday) at 7:30 p.m.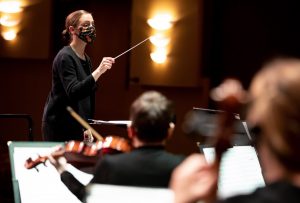 Now back to basketball.
Check out go.longwood.edu/horsepower to stay on top of all the Big South Tournament news. You can also purchase tickets in advance on this site through midnight the day before games.
There lots of ways to show your support. You can attend games in person at the Bojangles Coliseum in Charlotte, North Carolina. (See below for information on how your student could get a free ticket to each session.) Or you can watch the action at home if you have the right cable/streaming package or subscription.
As regular season conference champions, the men's team is No. 1 seed in the tournament. The women hold the No. 2 spot in the Big South (tied with Campbell for conference wins but with a loss to Campbell earlier in the season).
The women's first game, which is in the quarterfinals bracket, is at 6 p.m. today, Thursday, March 3. This game will be on ESPN+. Winners progress to the semifinals, which for Longwood would mean a game at 8 p.m. Saturday, March 5. This game also would be on ESPN+. A semifinals win would take the women to the championship game, set for 8:30 p.m. Sunday, March 6. It will be televised on ESPNU.
The men's first game, also in the quarterfinals, is at noon on Friday, March 4. This game will be on ESPN+. Winners will progress to the semifinals, which for Longwood would mean a game at noon Saturday, March 5. This game also will be televised on ESPN+. With a win in the semifinals, the men would head to the championship game, set for noon Sunday, March 6. It will be on ESPN2.
Longwood is purchasing 150 tickets for each of the men's and women's games, which will be distributed FREE to Longwood students. Tickets will be available at the coliseum in Charlotte on a first-come, first-served basis.
Each ticket is good for that day's entire "session"—that includes eight games in the quarterfinals and two games in the semifinals. Students will be allowed one ticket each for each session; all they need to do to claim their ticket is show their Longwood ID.
Want to make it a family event? Head to Charlotte! Tickets for the general public are $15 and are available in advance at go.longwood.edu/horsepower until midnight the day before the games. You can also buy tickets at the coliseum.
Spring Into Strings with Concert Thursday, March 3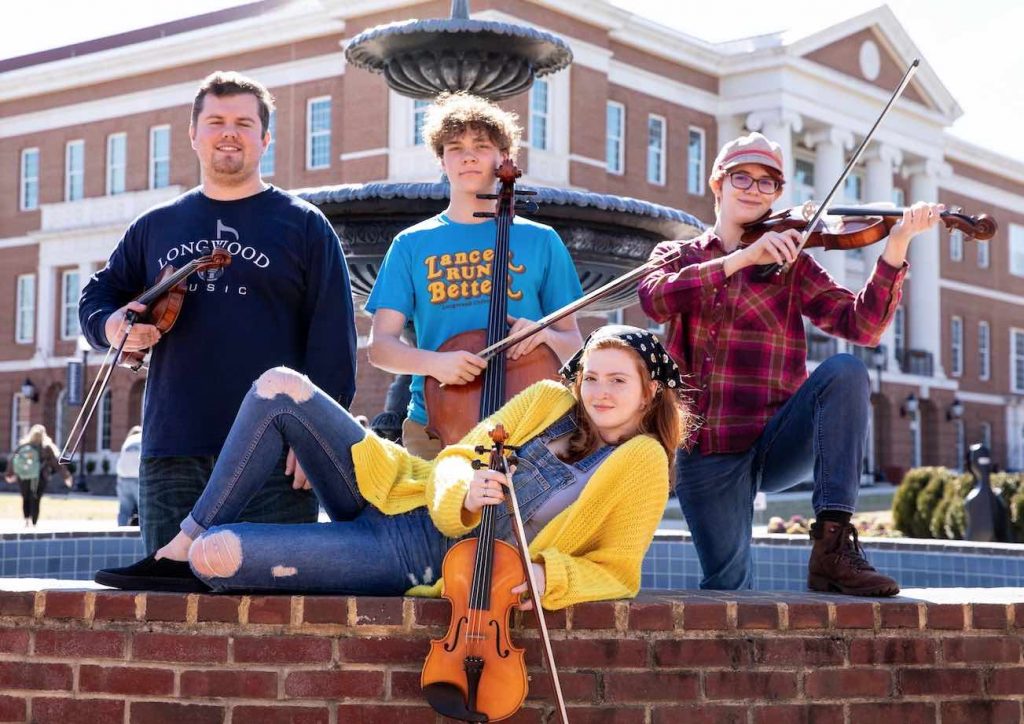 Do these talented students want to string you along? Absolutely—right up to the doors of Jarman Auditorium for the Longwood String Ensemble's concert at 7:30 p.m. tonight, Thursday, March 3.
Violinist David Cassidy '23 (left), cellist Misha Wiley '25, violinist Daisy Colgin '25 and violist Mary Spengler '24 will perform a Schumann string quartet as part of the program.
The String Ensemble concert will also include a medley of tunes from the Pirates of the Caribbean movies, a piece for chamber orchestra and solo cello that was featured in the movie Master and Commander, a piece that invokes the flavor of Spanish dance and, possibly for the first time ever, a selection that brings together on the same stage Longwood strings, woodwinds, brass and percussion—providing a peek into the future when Longwood might have a full orchestra.
Can't make it in person? Tune in to the livestream here: https://www.youtube.com/watch?v=3NiGVpGCLCU
—Sabrina Brown