I'm a writer, so I believe in the power of the written word. But photographers and videographers also are amazing storytellers. Below are a few visual highlights from the spring semester.
Just What the Doctor Ordered: Fun
When students need a break before the final sprint to exams and the end of the semester, Spring Weekend can be just what the doctor ordered.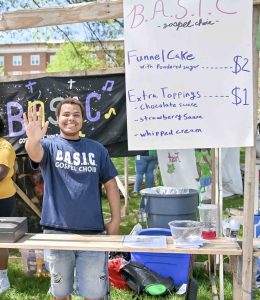 Many student organizations set up fundraising booths, offering food or pay-to-play games. There are performances by student groups and live music. And it wouldn't be Spring Weekend without oozeball. See for yourself why students love this Longwood tradition.
Show and Tell on a Much Higher Level
Twice a year Longwood dedicates an entire day to student research and scholarly activities. Through oral presentations, poster sessions, live performances and more, students show off their "muscles" in their areas of study.
The variety of topics is truly impressive, as you can see in this video and these photos from the Spring 2023 Student Showcase for Research and Creative Inquiry.
Stress-Lowering Treatment in a Fur Coat
It's pretty well-known that final exams can be stressful. Also well-known is that interacting with a friendly, tail-wagging canine can help reduce stress.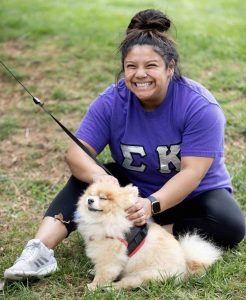 So when exams roll around, so does Study Paws. Faculty and staff bring their dogs to campus, and students gather for a furry therapy session. Take a look.
Putting a Ring On It
Just before Christmas, I posted some information about how to buy your student a Longwood class ring. What makes this gift even more special is the Ring Ceremony. Held in the spring, the event starts with the rings spending the night in the Rotunda.
The next day, family are invited to be on hand as the rings are presented. This year Vice President for Student Affairs Cameron Patterson '10, M.S. '17, was there to receive his own Longwood ring.
—Sabrina Brown