Longwood's Family Weekend is teaming up with Farmville's Heart of Virginia Festival on Sept. 16-17 for a weekend of delicious food, live music and a variety of other events. It will be the perfect time to check in with your student and give them a hug. Bring the whole family—there will be something for everyone!
FAMILY WEEKEND
Save $15 by registering for Family Weekend by Sept. 8. Cost is $10 per person if you register by Sept. 8; $25 starting on Sept. 9. Guests under age 5 and over 65 are FREE. Register for Family Weekend here.
For the most up-to-date Family Weekend schedule, download the Guidebook App free from the Apple or Android store.
If you have any questions, please feel free to email upchurch@longwood.edu or call 434-395-2103.
Here's a sampling of Family Weekend activities.
Friday
—Game Night, featuring bingo, trivia and Family Feud
Saturday
—Continental breakfast
—Performances by student music ensembles and soloists
—Paint Party (additional $35 fee, advance registration required)
—Information sessions and academic college open houses
—Performances by student groups including Blue Heat, the WOOD, FIERCE and True Blue Stomp and Shake
—Evening entertainment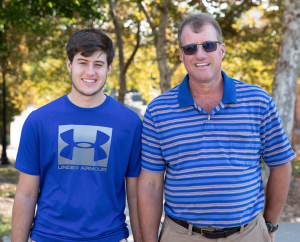 HEART OF VIRGINIA FESTIVAL
The Heart of Virginia Festival takes place at Riverside Park on Friday night (starting at 5:30 p.m.) and in downtown Farmville on Saturday morning and afternoon. There is no admission charge, but some of the activities require a fee. For more information about times and locations of events, including how to register for the 5K and 10K, click here.
Friday
—Live at Riverside (live music and food vendors)
Saturday
—5K walk/run and 10K run
—Food vendors
—Craft vendors
—Live music
—Cultural events
—Children's area
—Sabrina Brown