I hope the move-in process has gone well for everyone so far. Classes will be starting on Aug. 22, but campus is already buzzing. There's so much for students to do and so many ways to get involved!
I know it can be hard, especially for new students, to take that first step in an unfamiliar setting. Sometimes they just need encouragement and a little push—and now is the best time for students to make new friends and connections.
So I've included some information below about a few of the activities and events that will be going on in the first few weeks of the semester. This information has been emailed to all current students, but, if you see something you think your Lancer would be interested in, bring it to their attention and tell them to look for more information in the Weekly Email from Students Affairs ("stewart, kate"). It could make all the difference.
Events
New Lancer Days Tailgate and Amusement Park
Saturday, Aug. 20: 7-9:30 p.m., Brock Commons, Greenwood Library, Health and Fitness Center (HFC)
Carnival games, theme park-themed snacks, photo booth and even an "amusement park" ride in the HFC.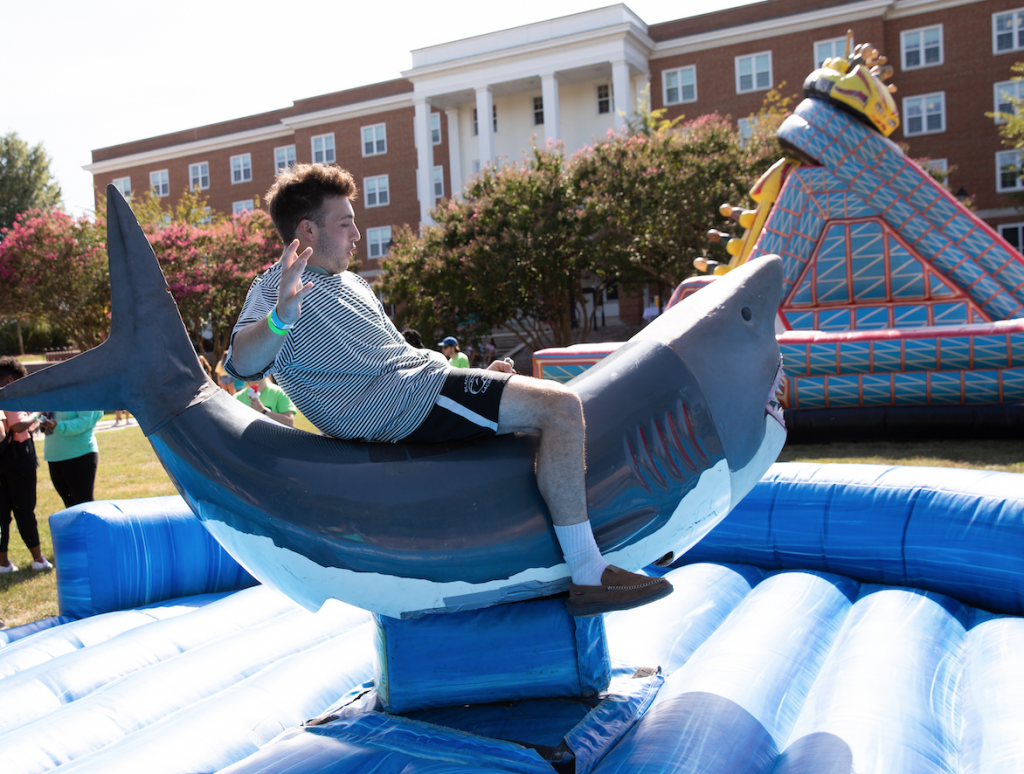 First Friday Back and The G.A.M.E.
Friday, Aug. 26, 2-8 p.m., Stubbs Mall and Johnson Drive Athletics Complex
Lancer Scarf wristband distribution: noon-3 p.m. for new students at the CHI Fountain; 3:15 p.m. for upperclassmen behind Lankford Hall
One of Longwood's signature traditions! A pep rally and other activities lead up to the march to the Athletics Complex for the women's soccer game at 6 p.m. Be sure your Lancer knows this is where they get the wristband they'll need to pick up their Longwood Scarf starting at 5:30 p.m. at the Athletics Complex.
Music Faculty Gala Recital
Monday, Aug. 29, 7:30 p.m., Molnar Recital Hall in Wygal Music Building
Music faculty provide an informal evening of entertainment, including vocals and instrumentals ranging from violin to saxophone to euphonium.
Involvement and Volunteer Fair
Thursday, Sept. 1, 4-6 p.m., Between Upchurch and Lankford and Brock Commons
A great place to find out about student organizations and volunteer opportunities, all in one location.
Lancer Tech Expo
Tuesday, Sept. 13, 10 a.m.-2 p.m., Lankford Hall
Students can view the latest technology gadgetry and learn about IT resources and services available to them. Refreshments and giveaways.
Activities and Organizations
Cheerleading Tryouts
Sept. 9 (5:30-8:30 p.m.), 10 and 11 (10 a.m.-2 p.m.), Willett Hall
Would your Lancer be interested in joining the cheerleading team? Open gyms are being held two weeks leading up to tryouts where they can learn sideline dances and stunting skills the coach and judges will be evaluating during tryouts. Open gyms: 6:30-8:30 p.m. Aug. 30 and Sept. 8; 5:30-8:30 p.m. Sept. 6.
https://longwoodlancers.com/sports/2003/10/7/cheerleading.aspx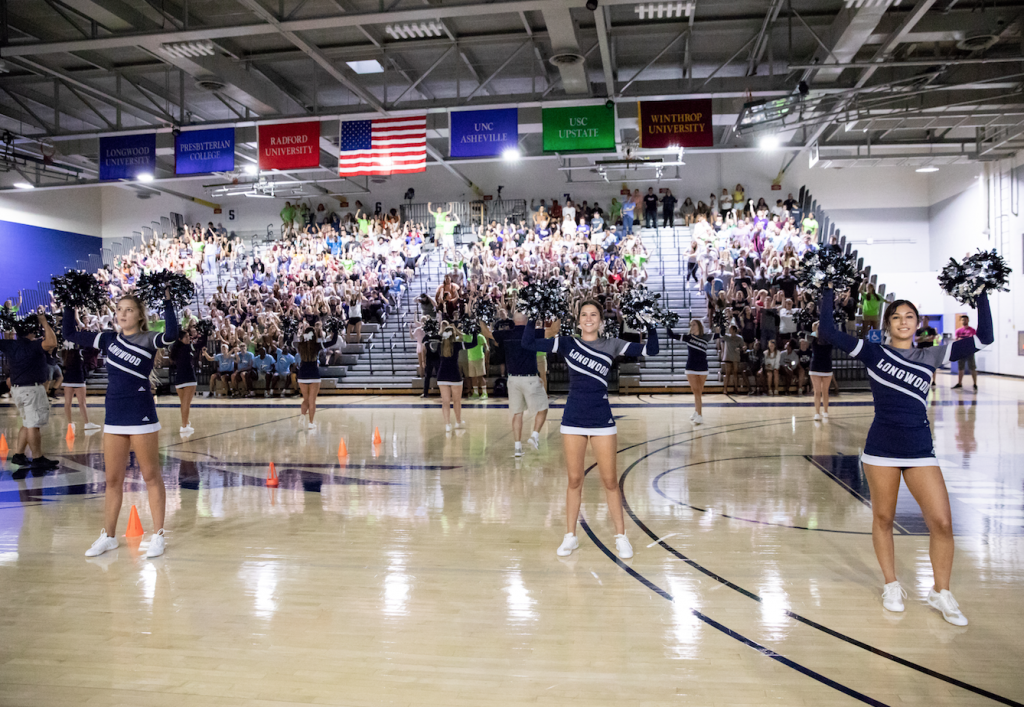 Health and Fitness Center Group Fitness Classes
Campus Recreation offers group fitness classes ranging from barbells to yoga to Dance-versity.
https://www.longwood.edu/recreation/
Intramural Flag Football
Offered by Campus Recreation, registration ends Aug. 31, and the season begins on Sept. 6 for men's, women's and open leagues.
http://IMLeagues.com
Intramural (Outdoor) Soccer League
Campus Recreation is offering its first outdoor soccer league for men's, women's and open league teams! Register by midnight Aug. 31 with a team or as a free agent to be placed on a team. The cost is $20 per team. The season starts Sept. 6.
http://IMLeagues.com
Band! Choir! Chamber Orchestra!
Does your student sing or play and instrument? It's not too late to add an ensemble to their fall semester schedule. All Longwood students are welcome in ensembles — not just music majors.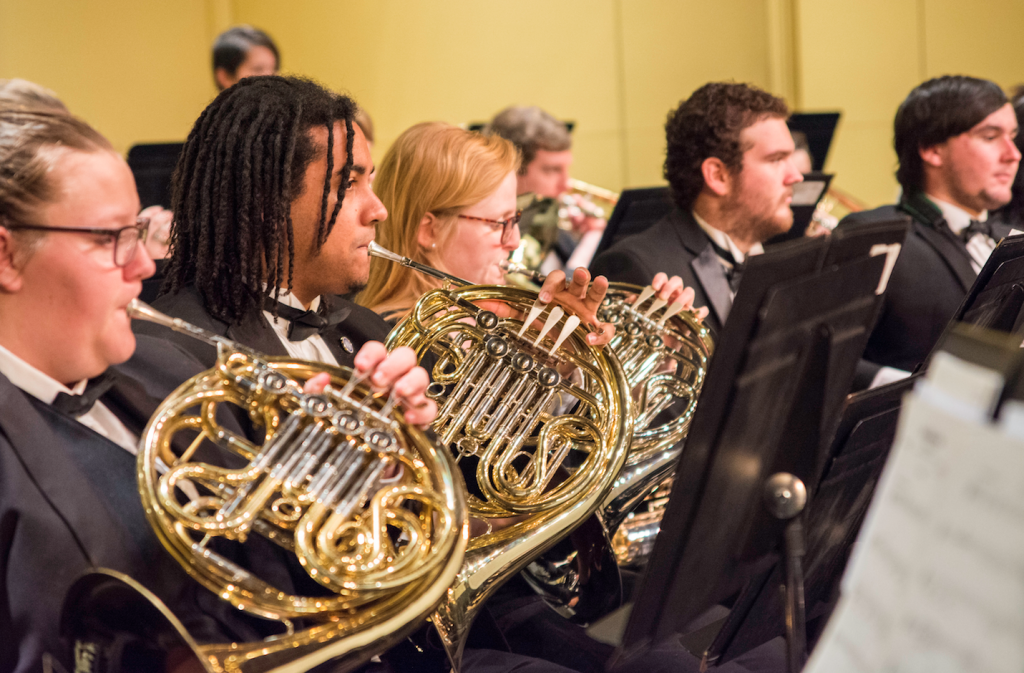 Free Stuff

Free Bike Rentals (up to 30 days)
Students can stop by the Health and Fitness Center front desk starting on the first day of classes to check out a free bike.
Jobs
Upchurch University Center
The Upchurch University Center is looking to hire a few students for the 2022-23 academic year.
Contact: Susan Sullivan, sullivansm@longwood.edu
Farmville YMCA
Farmville's YMCA is located less than 10 minutes from campus and is actively hiring for many positions, including lifeguard, front desk, wellness coaches and group instructors. This experience could count as an internship.
Contact: Stephanie Carwile, stephaniecarwile@ymcacva.org, 434-392-3456
Volunteer Opportunities
Virginia Children's Book Festival
The Virginia Children's Book Festival, set for Oct. 12-14, 2022, is back in person and looking for more volunteers to help with author escorts, room management, check-in and more.
Contact: Amanda Thompson volunteer@vachildrensbookfestival.org
Student Managers, Longwood Women's Basketball
Longwood women's basketball is looking for student managers for the 2022-23 season. Responsibilities include attending practice and running the clock, doing laundry, filming, rebounding and more. The position also offers the possibility of traveling travel with the team, early class registration, free gear and more!
Contact: Jack Greene: greenejc2@longwood.edu
—Sabrina Brown